ES
Mallorca Classic Week 12-16 Octubre 2022
Queridos Amigos de la Mallorca Classic Week,
MCW comenzó con éxito en Port Adriano en 2016, una de las marinas más importantes y exclusivas de mega yates del Mediterráneo.
Damos la bienvenida al Son Vida Golf Club como socio mas de la MCW. Son Vida es el decano de los campos de golf y líder en Mallorca desde 1964. En el Son Vida Golf Club se organiza el 1er torneo Vintage 1930ies con palos Hickory. El tradicional International Concours d´Elegance de coches clásicos tendrá lugar igualmente en las mismas instalaciones. Russel Stevens Memorial Drive y Crime Drive seguirán siendo eventos tradicionales de MCW (Limit 50 coches) .
También nos alegra contar con el Castillo Golf Hotel Son Vida como parte del programa que ofrece paquetes especiales para los participantes de MCW. MCW Hotel Castillo Son Vida MCW 2022
Nuestro socio Motorworld Mallorca envía extraordinarios coches clásicos de la Colección Motorworld y patrocina un fin de semana en el Hotel V8 de Motorworld en Stuttgart para los ganadores de las categorías del Concurso Internacional.
Nuestro socio fundador BMW Group Classic enviará espectaculares coches clásicos a Mallorca (fuera de concurso). El primer premio del International Concours d´Elegance serán dos de las exclusivas y magníficas entradas para el Concorso d´Eleganza en Villa d´Este 2023 en el lago de Como en Italia. Villa d'Este es el evento más importante y famoso de este tipo en el mundo de los coches clásicos. Habrá un límite de 60 jugadores para el torneo Vintage 1930ies Hickory Golf y de 20 coches clásicos para el International Concours d'Elegance. La admisión de estos últimos será decidida por el Comité de Selección.
Eche un vistazo a www.mallorcaclassicweek.com para obtener más información sobre los demás eventos individuales de la MCW 2022.
Saludos cordiales
Su Equipo MCW 2022
www.mallorcaclassicweek.com
ENG
Mallorca Classic Week October 12-16 2022
Dear Friends of Mallorca Classic Week,
MCW started out successfully at Port Adriano in 2016, one of the most exclusive Super Yacht Ports in the Mediterranean.
We welcome Son Vida Golf Club as further partner of MCW. Son Vida is the leading classic golf resort on Mallorca est. 1964. The First Vintage 1930ies Hickory Golf Club Challenge and the International Concours d´Elegance for classic cars will be organized at Son Vida Golf Club. Russel Stevens Memorial Drive and Crime Drive will remain to be traditional events of MCW (Limit 50 cars) .
Our further new partner Castillo Golf Hotel Son Vida is also part of the programme and offers special packages for MCW participants. MCW Hotel Castillo Son Vida MCW 2022
Our partner Motorworld Mallorca is sending extraordinary classic cars of the Motorworld Collection and is sponsoring a weekend in the V8 Hotel at Motorworld in Stuttgart for the winners of the categories of the International Concours d'Elegance.
Our Founding Partner BMW Group Classic will send spectacular classic cars to Mallorca (out of jury judgement). The first prize for the International Concours d´Elegance will be two of the rare and precious tickets for the Concorso d´Eleganza at Villa d´Este 2023 at lake Como in Italy. Villa d´Este is the most famous event of that kind in the world of classic cars.
There will be a limit of 60 players for the Hickory Golf Challenge and 20 classic cars for the International Concours d´Elegance. Admission will be decided by the Selection Committee.
Have a look please at www.mallorcaclassicweek.com for further information on the individual events of MCW 2022.
Cordial regards
Your
MCW Team 2022
www.mallorcaclassicweek.com
GER
Mallorca Classic Week October 12-16 2022
Liebe Freunde der Mallorca Classic Week,
die MCW ist 2016 erfolgreich in Port Adriano, einem der exklusivsten Häfen für Superyachten im Mittelmeerraum gestartet.
Wir begrüßen den Son Vida Golf Club als weiteren Partner der MCW. Der Son Vida Golf Club ist einer führenden Golfclubs auf Mallorca seit 1964. Im Son Vida Golf Club wird im Rahmen der MCW der erste Vintage 1930ies Hickory Club Challenge auf Mallorca veranstaltet. Der Internationale Concours d´Elegance für klassische Automobile wird gemeinsam mit dem Hickory Golf Turnier im Golf Club Son Vida stattfinden.  Der Russel Stevens Memorial Drive und der Crime Drive bleiben traditionelle Programmteile der MCW (Limit 50 cars) .
Ein weiterer neuer Partner ist das Castilo Hotel Son Vida als Standort der MCW. Das Hotel bietet den Teilnehmern der MCW besondere Packages für das Lodging an. MCW Hotel Castillo Son Vida MCW 2022
Unser Partner Motorworld Mallorca entsendet sehr seltene klassische Fahrzeuge zur MCW und sponsort für Gewinner der Kategorien des Internationalen Concours d´Elegance ein Wochenende im V8 Hotel der Motorworld in Stuttgart.
BMW Group Classic wird als Gründungspartner der MCW außergewöhnliche Klassiker nach Mallorca bringen (außerhalb der Wertung für den Concours). Der erste Preis für den Concours de Elegance werden zwei rare und wertvolle VIP Tickets für den Concorso d´Eleganza Villa d´Este 2023 am Comer See in Italien sein.
Die Zahl der Spieler des Vintage Hickory Golf Challenges ist auf 60 limitiert. Die Zahl der klassischen Automobile für den Internationalen Concours d´Elegance ist auf 20 limitiert. Die Zulassung wird vom Selection Committee entschieden. Besuchen Sie die website www.mallorcaclassicweek.com für weitere Informationen zum Programm und den Teilnahmebedingungen.
Mit Herzlichen Grüßen
Ihr MCW 2022 Team
www.mallorcaclassicweek.com
"BARBACOA DE BIENVENIDA"
CEREMONIA DE APERTURA DE LA MALLORCA CLASSIC WEEK
RUSSEL STEVENS MEMORIAL DRIVE"

to Puig de Santa Magdalena. Photo Drive which takes you to the nicest places on Mallorca.
"MCW FIRST VINTAGE 1930ies HICKORY GOLF CHALLENGE"
See 1930ies Hickory Golf Challenge Video at at Gstaad:
MASTER DETECTIVE NICK NICKERBOCKER´S CRIMEDRIVE 2022: "FOR YOUR EYES ONLY"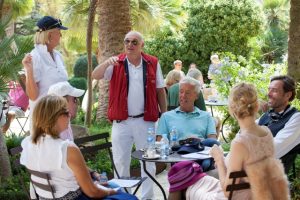 COMITÉ EJECUTIVO Y JURY INTERNACIONAL
Comité Ejecutivo
Patron
EXMO D. Tummy Bestard, Consul emeritus United States of America
Presidente
D. Alvaro Middelmann
Portavoz Comité Ejecutivo
D. Roman Hummelt

D. Enrique Carbonell
Da. Christine Crespo
D. Bernat LLobera
D. Stefan Pietzsch de Rossi
D. Danilo Salvador
D. Peter Spieth
D. Jonathan Syrett
D. Robert Wagenheimer
Jurado Internacional
Head of Jury: D. Dietrich Hatlapa (UK)
D. Georg Letzerich (D)
H.R.H. Leopold Prinz von Bayern (D)
BMW GROUP CLASSIC
D. Hugh Brogan (UK)
D. Nadal Galiana (E)
D. Ignacio Galiana (E)
D. Ulrich Knieps (D)
D. Stefan Pietzsch de Rossi (E)
D. Christian Wallner (D)
D. Wolfgang Wieland (D)
Click here to add your own text